Saeed's Story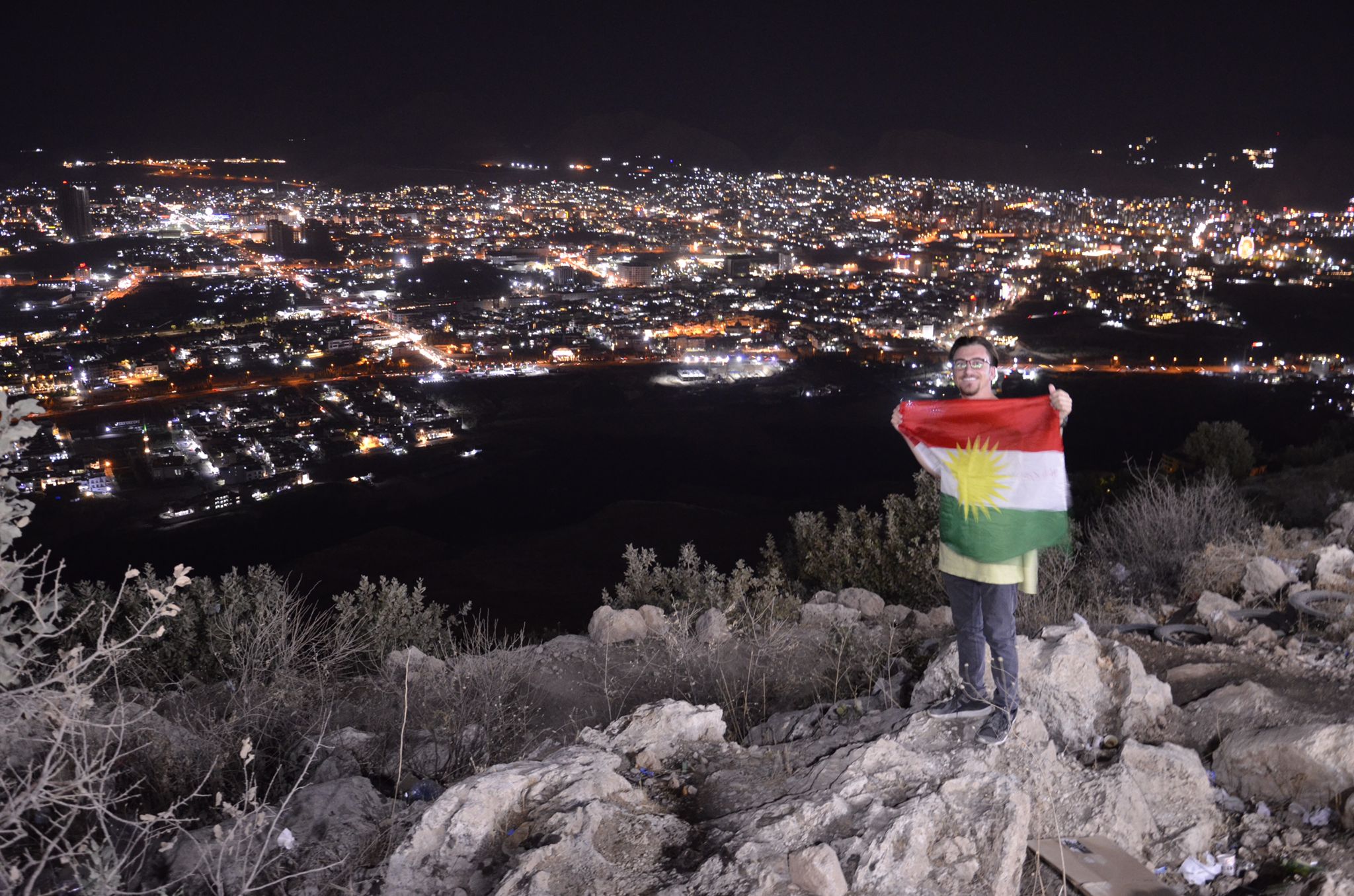 Black Day: 03.08.2014, Shingal, Iraq - by Saeed Yazidkhani

Hello dear world! 
My name is Saeed. l have a Bachelors degree from the University of Duhok college of Basic education English department. I have been volunteering in Kurdistan Iraq for four years as an interpreter, translator, and volunteer with foreigners - especially groups of American people, as well as with some organizations, NGOs, HARIKAR, NARC etc. I like making photography and having adventures when l have free time.
When l was a little kid, l told myself every time that l have to be good at English language, and then l started to learn at a very early age without any technology except TV. At that time l had no cell phone or anything related to technology. Every time when there was an English movie on TV l was watching. I had dreams when l was a child and everybody was telling me why are you not like us. Because l was different (I didn't like what they were doing or acting), they made fun of me. So, l tried hard and worked on my own dreams just not to be like them in order to be very self-motivated.
August 3/2014 is called the black day in Shingal (also, Sinjar). On that day, many people were killed by ISIS. They killed children and raped girls and women, cutting the heads off men.
Before the "Dae'sh" came in my village, they didn't warn us to escape just because they wanted us to convert to their Religion and also, they wanted to change everything related to our Religion. Just because we have our own Religion they wanted us to convert to the "Islam Religion". For sure then they were going to kill us. They think that Yezidian people are faithless and they don't believe in God but actually we are not. We believe in God and we have our own Religion, also we have our faith, called: "Tawas Malak" which means the king of Angels, he is the one who never dies and is the second one for us after God .
God gave him the power to be the king. So, there are some people who say that he is not the king.
On August 3/2014 in the early morning, I woke up and saw no one in my house or the village that I lived in. My family were in the tractor driving to go to the mountain. When I stood up to have a look to see our neighborhood, to tell them what is going on here and where is my family, l can't see anyone of them, I saw that everyone had gone to the mountain. After 2 hours, I walked by foot. I was like have nothing but feeling alone and sad worrying about my people, especially my own family.
Fortunately, I got there thank God without any hurt. When I saw my family I was like thank God that's it done, but then also, I worried about the kids and old men and women walking around the mountain without shoes anything even in that time we didn't drink water and food. We as one family, our family stayed there for 9 days without helping or support from the government. We wanted to just drink a little bit of water and live, nothing else.
In the second day of that case, I had one piece of bread and I saw two kids that were crying and looking at me like please give me some, I was like shocked and I gave it to them, piece by piece, some of my bread then they just feel good after I did that to them.
My village was too small, but I loved it because my people were there and we were living a simple life without any problems. l was at home with my family in a break when the ISIS came. I had many friends in that village, we played football together and we accepted our simple life. But then after being 9 days in the mountain living in a bad situation without eating and drinking water, we walked until getting the Syria border. We were 80 people in one tractor when we escaped from our city.
Some people from Syria gave us oil, water, and food when we were driving in their country. They were so kind to us just because, and we are not bad people. We are not faithless and we have a good heart, feeling for others.
We stayed in Syria one night. We were very tired because of walking and getting hungry. After 22 hours of walking, we arrived at the Kurdistan border and we thought, now we are safe. Then after looking for some place to sit, some of Kurdish people gave us food and water, they told us you're in safe hands. Stay as much as you can, we are human beings.
One of the Kurds gave us a hall to live in. We were 84 people, we stayed there for 9 months. After supporting them and helping us, we tried to look for a better place to live in, the one who is the leader of the hall showed us there was a camp called Qadia Camp. He gave us the keys of some caravans in order to leave the hall.
Then we went to the camp. In the beginning of 2015 we were in Qadia Camp. At the beginning they were trying and giving us much food, help, support, they gave us things and sometimes not, but in that time there was many organizations. Now we are living in a bad situation, there is no electricity, not enough water. Nowadays there are few, they can't help us and support everyone because they are non-government organizations.
So, I just want to say that if anyone can help me for anything l would be thankful for him/her. You can't write everything that has happened to you on one piece of paper or ten are even not enough for every bad thing that has happened to me in the past 5 years. But I want to show everyone that Yazidian people are not bad, they believe in God and they are human beings.
I want to show this to every single person who sees this message, and those who have feelings about it. I will be thankful if anyone can help me and support me to leave this country in order to help others. Money is not everything, but it's just the thing that you use to give help to others. l don't mean help me with money, there is lots of other stuff you can do. Here in this city I can't do anything related to my people.
Helping is one of my best thing in my life, humanity is my religion. Please help "Kojo" - it is one of the villages not far from the centre of "Shingal", about half an hour away. The number of people who were living there (1,700 person, men, women, kids and young men) were all killed by Dae'sh on the day of August 15\2014.
One of the girls, she was just (9) years old and she had been raped also 9 times by one of the gang men (ISIS), then after day by day, she got pregnant by them. There were a lot of them making fun and laughing at her. But unfortunately, on the day of the birth of her child she got too sick and was not able to birth because she was just a kid.
They bought every single girl, shared from one person to another one. The girls weren't able even to suicide themselves as they (ISIS) didn't allow them to kill themselves. All girls bought from Iraq to many other cities and countries for example, from Iraq to Saudi Arabic, to emirates and Syria. On August 3\2014, I saw the "Dae'sh" (ISIS) but, fortunately, I was able to escape from them. They had long hair and very bad faces, with beards and without moustaches. They were looking for girls and women to take all of them and kill every man and youth. They had a lot of armour on that day when I saw them. l wanted to live simply and without any problems, as I had in the the past 5 years.
I just want to help poor people as much as I can, even teaching someone or supporting any kind of help. If anyone can see this message and wants to help me, life here is very hard and not like outside. We would be happy then.
If anyone sees my own words and story, I just want someone to help me or support me and to show everything related to their government.
Thank you!
~ Saeed Yazidkhani